The Good News Roundup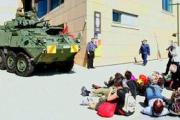 Tank blockade, Bush on trial for torture, Food stamp cuts stopped
New Zealand weapons conference protest
Around 70 protesters confronted police and a tank at a conference for the New Zealand Defence Industry Association, and members of the Aoteaora Revolutionary Clown Army (ARCA) helped put the event in the news. The sit-in and blockade organized by Peace Action Wellington ended with twenty arrests and several injuries. Follow Aoteroa's IMC thread for updates on the seven who are still facing charges of trespassing, police assault and obstruction.
10th National Day of Protest to Stop Police Brutality
The October 22nd Coalition, part of the Stolen Lives Project, organized demonstrations around the U.S. and encouraged observers to wear black on Saturday, to remember people killed by police forces. Copwatch held a conference in San Diego, while vigils and rallies recognized victims in San Jose, Fresno, Santa Ana, Los Angeles, Greensboro, Minneapolis, Cleveland, Milwaukee, New York City, and Washington, D.C. Indybay celebrates that last month, the outspoken Oct. 22nd Coalition member and Puerto Rican Rights activist Juanita Young was found not guilty in Bronx Supreme Court, two years after her arrest in an illegal eviction. As she was taken from her home, the arresting officer Hernandez had told her, "No rallies for you today." In the lead up to this month's protest she wrote, Resistance: When is enough enough?
Manila protest keeps the heat on Arroyo
Police prevented the rally from reaching the symbolic Mendiola Bridge, but protesters put their president's unpopularity back in the international news. Ten thousand marchers, "mostly farmers and fishermen who had traveled from Southern Tagalog and Northern Luzon provinces," participated in the largest anti-Arroyo rally held in weeks. These protests continue in defiance of the govermnet's no permit, no rally policies. Arroyo was so rattled on Friday that she characterized the march as a coup attempt – the leaders will be tried on criminal charges. October 21 was chosen as the 33rd anniversary of Presidential Decree 27 on land reform.
Bush on trial in Canada for torture
The embargo on publication has been lifted, allowing reporters to inform Americans that their president is on trial for torture. Only Counterpunch and the blogosphere carry the story, according to google. Gail Davidson and Lawyers Against the War have brought charges over the treatment of prisoners at Guantánamo Bay and Abu-Ghraib, under sections of the Canadian Criminal Code enacted pursuant to the UN Convention Against Torture, ratifiedy by Canada in 1987. "The American legal system seems incapable of bringing him to justice and there are no international courts with jurisdiction. So it's up to Canada to enforce the law that everybody has signed on to but nobody else seems willing to apply," said Davidson, a Vancouver lawyer whose case pits her against her government's legal team.
Canada charges Rwandan for genocide
Toronto courts are trying the first case under Canada's Crimes Against Humanity and War Crimes Act of 2000. Desire Munyaneza has been under investigation for five years, and is now being charged with acts of genocide committed in Rwanda. Former chief justice Louise Arbour compared the move to cases in the Netherlands, Belgium and Spain when she told CNews that "what's happening in Canada is in a long – recent but solid – line of accountability which I think we could celebrate."
Orhan Pamuk wins peace prize for novel
In Frankfurt to accept Germany's highest literary honor, the Turkish peace prize winner told reporters, "There is a certain irony, given the political light in which this prize is viewed both in Turkey and in Germany. .. It is a good thing I recently wrote a deliberately political novel." This novel is Snow, the Dostoevskian story of a poet in eastern Anatolia in the 1990s. storyId=4124293 Pamuk faces trial in his home country for remarks made to a Swiss journalist about the Ottoman killing of Armenians in what is sometimes called the first historical genocide.
Iran's first female firefighters
Karaj boasts Iran's only female squad of firefighters at Station No. 9, visited by The Christian Science Monitor. The women serve alongside men in full uniform (with a headscarf beneath the helmet), and are trained in the same rigorous tests. They feel their example inspires Iranian women to pursue other professions ordinarily monopolized by men, and several other cities are now interested in copying the model unit in Karaj.
Low-income housing in Philly's Center City
Kate's Place, a 144 unit apartment complex in central Philadelphia, is a breakthrough in the city's struggle with an affordable housing crisis. Project H.O.M.E. helped protect and reopen the building to residents with incomes between $15,000 and $29,000 and under $15,000. Resident DuWan McClain told Philly IMC, "The location of Kate's Place is perfect because it is within a mile of where I work."
Senate bill to cut food stamps stopped
A farm and food subsidy measure in the Senate that would have cut $500 million in food stamps and denied benefits to 300,000 working families died in committee, thanks in large part to calls on Senators from concerned voters who spotted the measure in letters to the editor in over 1,400 newspapers. Review other low-income programs at risk and alert your community with a personal letter if you recognize another program that you have benefited from.
Debt relief for Nigeria & Dominican Republic
Africa's largest debt deal in history – negotiated this summer with the Paris Club – freed Nigeria of $18 billion in loans, reducing annual debt service by about $1 billion. "Debt service savings would be channelled into water resources, power, roads, health and micro-finance for farmers," finance minister Okonjo-Iweala told the Financial Times. "To avoid diversion of funds, an expenditure tracking mechanism had been set up with the UK's Department for International Development and the World Bank, and she hoped this mechanism would be extended to the whole of Nigeria's budget." A much smaller debt deal for the Dominican Republic rescheduled 15% of the nation's $2.05 billion debt to the Paris Club creditors. This move reduces the country's debt service by more than half.
Navy on trial for noise pollution
Two years ago, the Navy settled an environmental lawsuit over sonar's impact on whales and dolphins by agreeing to limit its use of low-frequency sonar. Now the Natural Resources Defense Council is pursuing a court order on mid-frequency sonar, used to detect submarines. The NRDC hopes to require the Navy to listen for whales before using mid-frequency sonar in training exercises, and to avoid migration and calving areas.
South Africa confronts climate change
The government of South Africa accepts that human activities are accelerating climate change, and convened South Africa's first climate change conference to address the need to "change the behaviour and prepare our communities." The government met with scientists and NGOs to discuss a shift from conventional to renewable energy. Environmental Minister Schalkwyk pointed to this hurricane season's severity worldwide as a "smoking gun," and warned that polar ice cap melting could soon impact trade through the Suez Canal or around the southern tip of Africa.