Honor The Fallen On Page One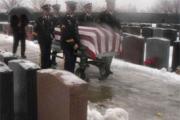 The media hides the pain of this war, help me change that
Two-thousand American troops have now been killed in Iraq. As we pass this grim milestone, the media will briefly turn their attention away from celebrity diet fads, and on to the human cost of the war.
But for over two years, the media have failed to adequately honor the sacrifice of America's Servicemembers.
Putting the names of the fallen on the back pages is an insult to America's Troops and to the families of the fallen, and is yet another example of poor media coverage of the war.
Consider that in the Oct. 13 edition of The New York Times, the day after six Americans were killed in Iraq, the names of the dead were relegated to Page A-10 in a tiny box at the bottom of the page, about one-quarter the size of a Bloomingdale's ad on the same page.
The public needs to be more aware that, for our troops in harms' way, the situation has gotten more dangerous. But, it's tough to understand that when the casualty report consists of a tiny box at the bottom of the tenth page.
As a veteran of this war, I am asking you to take part in Operation Truth's Honor the Fallen campaign by writing to your local newspaper now, and urging them to honor the sacrifice of America's Troops by publishing daily casualty reports on Page One. It takes only three clicks to send a letter with our easy-to-use tool. You can do it in less than a minute.
Tomorrow, the 2000 toll will be front page news. But the 2001st, 2002nd, 2003rd, and so on deserve to be on the front page as well.
Paul Rieckhoff is the executive director and founder of Operation Truth, and a veteran of the war in Iraq, where he served as a platoon leader with the Third Infantry Division. He recently guest co-hosted Air America's Mike Malloy Show with GNN's Anthony Lappé.